Over 25 years' success leading insurance, claims management and consulting innovation for high-growth organizations
If the plan doesn't work, change the plan but never the goal!  – Henry Ford
Innovative professional with more than 25 years' experience in negotiating, advising, and managing complex and major insurance claim files.
Passionate people manager, highly proficient at directing, mentoring, and engaging internal and external teams. Broad range of expertise in strategic management, mergers and acquisitions, human resources, and law and governance.
If you can't explain it simply, you don't understand it well enough.
Albert Einstein
We love & know what we do!
The way to get started is to quit talking and begin doing!
- Walt Disney
Olivier Fraiture
Head of Claims Department, CORONA DIRECT, 2023
Ik deed in de eerste helft van 2023 een beroep op de diensten van Katrina voor een dubbele opdracht. De eerste bestond uit de revisie van schadedossiers met letsels en reserves voor de toekomst. De tweede betrof het wegwerken van de backlog. Wat een efficiënte en geweldige samenwerking op basis van respect en wederzijdse communicatie. Een fantastische deal.
Herman Falsté
Managing Director, AMMA, 2022
Katrien is een sterke en zéér gedreven persoonlijkheid. Zij heeft een ruime kennis van verzekeringen in het algemeen en van het schadebeheer in het bijzonder. Zeer performante en loyale medewerkster die ook complexe dossiers en projecten tot een goed einde kan brengen.
Broker, Keller Williams Luxury Portfolio, Executive Real Estate Services, 2022
I was bestowed the esteemed honour of being paired with Katrien Verbanck, as my mediation partner at Harvard Law School 2022; working together in attaining our certificate in mediation.
Read more
Peter D. Aiena
President of AIU Claims, AIG, 2022
I had the opportunity to work with Katrien along with our AIG/AIU Accident and Health Sr Claim Officer Ted Devivo in 2004 and 2005. Katrien was an outstanding employee who always demonstrated total commitment to our goals and objectives. Extremely Customer Service focused and always handled our customers with the highest integrity. She is very pro-active and well versed in all areas of insurance claims handling. Katrien would be an asset to any company that employs her skills.
Annie Wishingrad
Certified Specialist – Family Law, The State Bar of California Board of Legal Specialization, International Academy of Family Lawyers-Fellow, Law Offices of Annie Wishingrad, 2022
I am thrilled to recommend Katrien as a mediator. I met Katrien when we attended the "Mediating Disputes" seminar at the Program on Negotiation at Harvard Law School. I was impressed by Katrien's enthusiasm and skills as we interacted in various mediation workshops. Katrien was insightful, showed her excellent analytical thinking, and displayed her creativity as we worked together and exchanged ideas. Katrien is also collegial and shared her passion and knowledge in a variety of fields.
Alexandra Tatti
Gestionnaire senior assurances de dommages, Gestionnaire deuxième et troisième pilier vie, Formatrice Insert, Monument Assurance Belgium, 2022
J'ai rencontré et travaillé avec Katrien dans le cadre du recours - tiers en accident de travail. Katrien a une vision claire des situations qui à priori sont compliquées et/ou complexes. Elle sait fixer/établir les objectifs et s'y tenir qu'importe les obstacles ! Cela fait d'ailleurs partie des enseignements que j'ai reçu en travaillant à ses côtés. Elle dispose d'une grande gamme de connaissances, une maîtrise de plusieurs langues et s'adapte à chaque situation avec détermination et avec le sourire ! En fait Katrien est un véritable couteau suisse : ses possibilités sont multiples !
Jochen Mast
COO Marsh Belux, 2021
I have worked with Katrien on several occasions. I have come to know her as an expert in claims handling and project management. A true professional and a pleasure to work with.
Rutger Janssens
COO Alpha Insurance, 2017
Katrien is zeer gedreven en professioneel, iemand waarop je kan rekenen. Katrien heeft een zeer brede kennis op het vlak van schadebeheer waardoor ze multi-inzetbaar is. Bovendien is ze zeer open en sturend naar andere medewerkers zodat deze ook leren van haar kennis en ervaring. Katrien levert kwaliteitswerk af.
Pierre Cambier
Executive Board Member, Sales & Marketing Director AMMA Verzekeringen, 2017
I got in touch with Katrien through my good friend Peter De Lille whilst I was looking for an expert in Belgium Workmen's Compensation Scheme. Katrien gave me the required detailed information about WC in Belgium and alike covers. Both oral and written explanations were to the point and covered all the questions I raised. I recommend Katrien as a qualified independent expert in respect of Workmen's comp. and accidental covers.
David Vangucht
Senior Litigation Handler, Allianz, 2017
Ik kwam Katrien tegen als externe consultant binnen het schadeteam. Haar gedrevenheid, resultaat gerichtheid, flexibiliteit en leergierigheid vielen mij onmiddellijk op. Dankzij haar ervaring weet zij ook d.m.v. haar tomeloze inzet de jongere profielen te motiveren en te sturen. Haar drive en daadkrachtig optreden zullen mij, van al haar passages binnen het departement, bij blijven. Het was telkenmale aangenaam (samen)werken met Katrien.
Senior Schadebeheer Brand/Speciale risico's en Technische verzekeringen, Baloise Insurance, 2017
Wat ik in de loop van mijn carrière, in de samenwerking met externe consultants steeds gemist heb is hun gebrek aan betrokkenheid met het bedrijf en de teams waarin ze aan het werk gingen. Om dan na afloop van de samenwerking tot de slotsom te komen dat met uitzondering van de geleverde arbeid, weinig of niets was bijgedragen. Ik wachtte dan ook na de aankondiging van de komst van een nieuwe consultant, met scepsis af.
Read more
Geertrui Leens
Claims handler Bodily Injuries, Allianz, 2017
Ik leerde Katrien kennen op onze schadedienst tijdens verschillende vervangingen van collega's. Katrien is gedreven, gemotiveerd en ambitieus en werkt zeer efficiënt. Ze heeft een grondige kennis van BOAR producten. Ook managementstaken of audit zijn haar niet vreemd. Ze is vlot in de omgang en deelt ook graag haar kennis met anderen. Het was steeds een zeer prettige samenwerking.
Marc Gilis
CEO Alpha Insurance, 2016
I worked for about a year with Katrien, she joined the claims team as a consultant to face the lack of resources. she has been of a great help for all of us, she very quickly understood our organisation and has been directly efficient. This is also due to her developed analytical and organisation skills.
Jean-Pierre Dienaar
Senior schadebeheerder BA Familiale, ING Non-Life, 2016
Ik heb het voorrecht gehad meerdere jaren met Katrien samen te werken. Ze bleek een zeer ijverige, competente schadebeheerder te zijn. Blijkbaar bezit ze een enorme hoeveelheid energie en werkijver want ze verzet tonnen werk. Daarenboven bleek ze polyvalent en flexibel te zijn en kon ze zowel branddossiers als BA Familiale dossiers naar behoren beheren. Het sierde haar dat ze ook openstond voor suggesties ondanks de grote ervaring die ze heeft. Ook als persoon en collega is ze iemand waar ik waardering voor heb.
Gaby Goris
Senior Schadebeheerder Brand, 2016
Eerlijkheid, empathie, gedrevenheid, power, professionalisme, betrokkenheid, efficiëntie, inzet... Zo omschrijf ik Katrien en dit alles reflecteert zich ook in de manier waarop zij haar werk doet.
Patrick Teles
Directeur Général Mapfre Re, 2015
Nous avons eu recours aux services de Katrien Verbanck dans le cadre d'un remplacement temporaire au sein de notre service 'Sinistres'. Mme Verbanck nous a donné entière satisfaction dans la gestion des sinistres. Elle montre beaucoup de rigueur et d'efficacité. Outre ses qualités professionnelles, Mme Verbanck est également une collègue très agréable.
Klaartje De Groof
Staffing Consultant, Baloise Insurance, 2015
Katrien kon zich zeer snel inwerken en wist ook de moeilijke dossiers vlot af te handelen. Ze toonde zich steeds betrokken en wilde altijd een actieve bijdrage leveren aan efficiëntie en klantentevredenheid. Katrien wist goede relaties op te bouwen en had oog voor alles.
Marie-Cécile Van Craenendonck
Office Manager Mapfre Re, 2015
Nous avons fait appel à Mme Verbanck au sein notre société afin de résorber un retard et dans l'attente de l'engagement d'un nouveau collaborateur. Nous n'avons eu qu'à nous en féliciter. Non seulement, son travail est rapide, efficace et organisé mais elle a également une vision aiguisée du travail en entreprise et est capable d'évaluer en un clin d'oeil l'efficacité des procédures mises en place.
Filip Lampaert
Claims Director CNA Europe, 2013
Ik heb Katrien leren kennen toen we plots op CNA onze schadebeheerder transport verloren en we geen vervanger hadden. Ik heb toen Katrien ontmoet in Gent voor een afspraak, en een week later hadden we een contract zodat Katrien bij ons als freelancer transportschades zou komen doen. Katrien had toen geen ervaring in transport en ik gaf haar nog een cursus mee van de BVVO. Zij heeft onze schades dan gedurende een 6 tal maanden gedaan, zonder dat ze ook maar vooraf enige training had gekregen in transport. Sterk!
Dirk Jonckheere
Head of Operations Claims Non-Life Allianz Belgium, 2012
Katrien is zeer betrouwbaar en toegewijd. Zij leeft zich in in de concrete werksituatie en probeert steeds een uitmuntend resultaat neer te zetten .Hierdoor stuurt zij ook de mensen in haar omgeving positief aan. Katrien heeft een sterke persoonlijkheid en denkt mee in het vinden van zowel punctuele als blijvende oplossingen .Als dienstverlener een harde werker en zeker ' value for money'.
Peter De Lille
Operations Director Inventiv Belgium, 2012
Katrien is een gedreven persoon, met de ambitie goed werk af te leveren op een efficiënte manier. Ze kent zeer goed het beheer van BOAR producten en is zeer proces- en procedure gericht. Ze heeft heel snel door waar die performanter gemaakt kunnen worden. Katrien communiceert zeer direct, je weet erg snel wat je aan haar hebt. En je hebt aan haar een competente, positieve, slimme en loyale medewerkster!
Annemieke Lion
Senior Schadebeheerder Brand, ING Non-Life, 2010
Ik leerde Katrien kennen toen ze ons kwam vervoegen in het schadeteam brand. Dankzij haar snelle en professionele aanpak heeft ze ons team vakkundig en gedreven ondersteund. Merci Katrien!
Marc Kint
Coördinator Beheer Schade Brand, Baloise Insurance, 2009
Katrien is een top-medewerker en -collega die een uitgebreide kennis van schaderegeling BOAR combineert met een klare kijk op complexe situaties, een groot doorzettingsvermogen, een niet-aflatende werkkracht en graag bijdraagt in optimalisatie van processen. Kortom, een heel goeie kracht!
We love working with people! We'd love to hear all about your projects so contact us today and get 100% free first online consultation!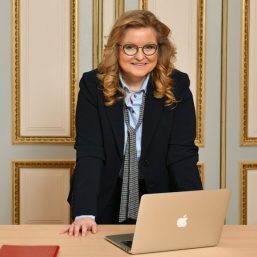 Founder – Managing Director
Dynamic international senior executive, with a broad range of expertise in strategic management, M&A, law and governance, with a combined entrepreneurial and corporate background, focused on both operational and strategic goals, taking up roles with broad responsibilities and interaction at senior level.
Don't be busy – be productive!
and counting
Completed assignments